How does the Aerobic Digester work?
Aerobic digesters break down food waste into grey water. This grey water is then disposed of into your existing drainage system with effortless simplicity. The system is fully contained and independent.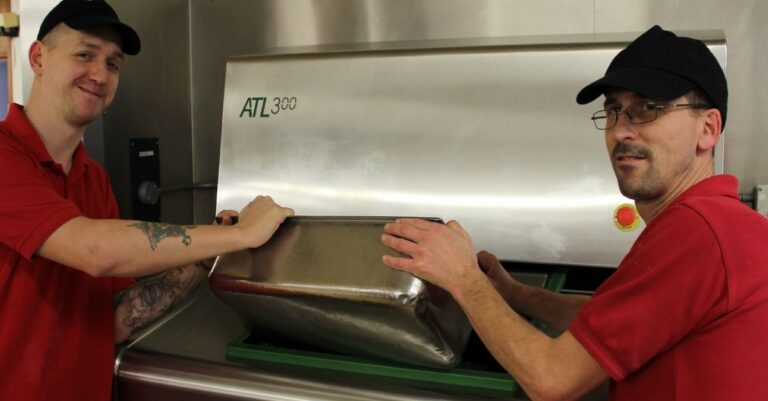 Keep your kitchen clean with an Aerobic Digester
The machine was designed and built in the UK and operates an aerobic digestion system to process food waste. Aerobic digestion allows the food to be aerated speeding up the breakdown of waste.
The inoculant formula was developed by the Environmental and Life Sciences Laboratory at the University of Birmingham. Aerobic digestion benefits include reduced noise, elimination of smell and reduced need for cleaning. ATL digesters are capable of processing between 10 to 500 kilos of food waste in a single 24-hour period.
Aerobic Digesters are manufactured in the UK and tested to the highest standards to ensure minimal maintenance.
Having been developed with longevity in mind, digesters have an estimated working life span of 20 years per machine (even with daily usage). The inoculant solution at the heart of the technology reflects this ethos, with users only needing to replace or top it up every twelve to 18 months depending on usage.
Compliant with the following standards:
BS EN ISO 12100 2010 Safety of Machinery General Principles for Design Risk Assessment & Reduction
BS EN 614-1 2006 +A1 2009 Safety of machinery-ergonomic design principles
BS EN 60204-1 2006 + A1 2009 Safety of Machinery-Electrical Equipment of Machines
BS EN 61000-6-3 2007 +A1 2011 Electromagnetic Compatibility
BS EN ISO 14119:2013 Safety of machinery. Interlocking devices associated with guards. Principles for design and selection
You can trust the technology, allowing you to focus on your customers.
For more information, check out our FAQs here.
To see a demo machine and understand how it could benefit your business, contact us.
Let's get the ball rolling
Fill in the form below and we'll be in touch